The Boston Business Journal names Environmental Systems, Inc. (ESI) a Best Place to Work for 2020
The Boston Business Journal has named Environmental Systems, Inc. (ESI) to its 2020 Best Places to Work — the BBJ's exclusive ranking of the Massachusetts companies that have built outstanding work environments for their people.
The Best Places to Work recognizes the most admired workplaces in the state voted on by the people who know them best—their employees. The 165 companies that met criteria for participation in 2020 range in size and industry, with winners from the const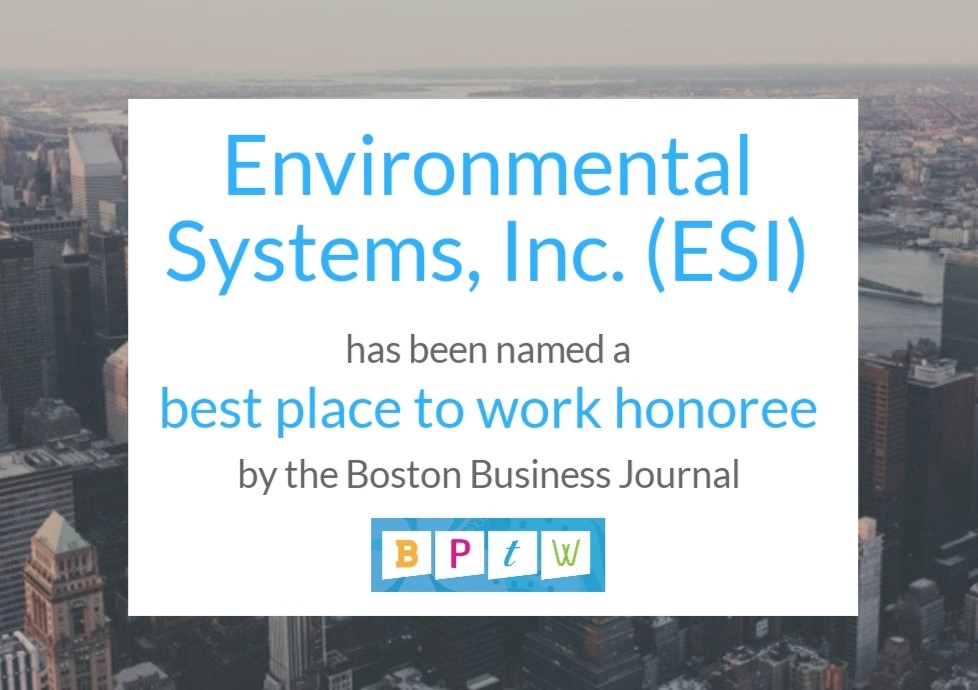 ruction sector, technology industry, health care space, commercial real estate and more.
The survey measures employee opinions about their company's direction, execution, connection, management, work-life balance, job satisfaction, advancement opportunities, compensation and benefits.
Based on the results of those surveys, businesses were assigned a score out of 100 percent and ranked by Business Journal partner Quantum workplace. The winners share a few key traits, including offering progressive benefits, giving their employees a voice, promoting engagement, and encouraging them to have some fun while they are at it.
The top-rated companies are listed in five size categories — extra small (20 to 49 employees), small (50 to 99 employees), medium (100 to 249 employees), large (250 to 999 employees) and extra-large (1,000 employees and up).
The Best Places to Work special publication is scheduled to be published in the Oct. 2 Weekly Edition of the Boston Business Journal.